A cliché of freedom in America is the classic road trip: getting out on the open road without much of a plan and letting adventure take the wheel is a tried-and true way of declaring your freedom from the routine, 9-to-5, cubicle-dwelling existence that many of us live day to day. So, when my 24-year-old son, Max, floated the idea of a driving trip down the Blue Ridge Parkway in Virginia (and North Carolina) a couple months ago, I immediately said YES and we started planning. What developed was a 5-day, 1,800-mile drive from Larchmont, New York down through New Jersey, Delaware, Maryland, Virginia, North Carolina, and Tennessee, and back again.
On our trip, we met some great people, ate amazing local food, drove thrilling roads, and re-connected with each other over smoky Tennessee rye whiskey:
We endured traffic in NY, NJ, and DE as we escaped the NY metro area
We took a side trip to Jefferson's Monticello and were reminded of how compelling, complex, and controversial a figure Jefferson was in his lifetime, and still is; his writings on freedom and liberty resonate more than ever, but are tinged by his history as a slave-owner
We spent two days driving almost the entire length of the Blue Ridge Parkway, a 1935 WPA project that put thousands of people to work during the depression and created an enduring national treasure: a road designed primarily as an esthetic and recreational experience, with dramatic vistas around almost every curve, intended to uplift and inspire at a time when the nation was most downcast
We found local roads and detours off the BRP with dramatic hairpins and stunning local scenery: the Appalachians, Blue Ridge, and Smoky Mountains are full of such roads, and we understood why people who live here are so passionate about their home
We ate some killer BBQ, from Calhoun's in Knoxville, Tennessee, to the Commonwealth Restaurant in Charlottesville, Virginia, to the Galax Smokehouse in Galax, Virginia (home of the statewide annual 'cue contest)
We spoke with locals everywhere we went, who demonstrated over and over their famed and natural Southern hospitality
Some pics (herewith) give a taste of what we experienced. In order: a bazillion barbecue sauces at the Galax Smokehouse in Galax, VA; burgs 'n beers at Jack Brown's Beer and Burger Joint in Richmond, VA;  Max and I at the end of the Blue Ridge Parkway (we drove it backwards); Max, I, and Tommy J at Monticello in Charlottesville, VA; Max and the Subie on the BRP in North Carolina.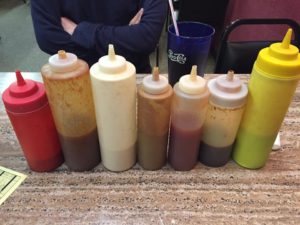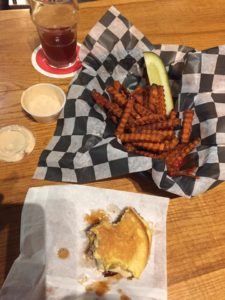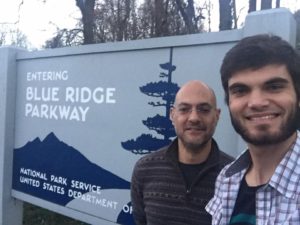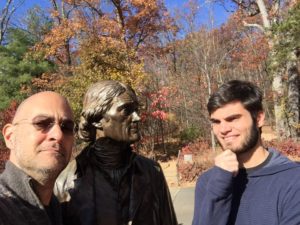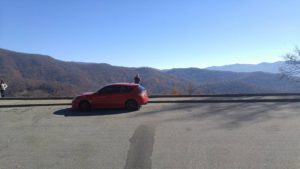 We also learned along the way that there are 6 things you absolutely need in order to have a fantastic road trip, American style:
Make sure you have a compatible companion who also loves to drive. There's nothing better than sharing the road with someone you've known for a long time, who gets your jokes, has shared experiences, and enjoys the same things. Max and I have been driving together for years now, so we're a pretty good team (my wife, Suzanne, and I are also great road trip companions, as is my daughter Liz – probably because we brain-washed the kids at an early age to love road trips and we all love driving).
Have a great playlist. You need a soundtrack for your road trip, and you can't leave it to chance. Max uses Google Play and he downloaded all our favorites (Bruce, The Cars, Sammy Hagar, Bob Dylan, and others) along with some new stuff that he likes (Vampire Weekend, e.g.). Great music just makes a great road trip. Stand-up comedy makes a great break from music, especially if there's traffic: nothing distracts from the misery of being stuck in a long line of cars like laughing until you cry, and we found Robin Williams, Jim Gaffigan, John Mullaney, Asiz Ansari, and George Carlin to be excellent companions on the road.
Don't be afraid to have deep conversations with your driving buddy. This is a core principle of road trips: while you're in the car on a long drive, you can talk about anything, and you can talk about it in depth, because you have a lot of time on your hands and you really, really like the person you're with. So go big, go philosophical, go personal, go deep: a road trip is like an extended therapy session, with time to take lots of detours and explore lots of lesser-traveled roads that you may not have had time to see over the years, and time to rebuild and strengthen that relationship that may have gotten shallow or predictable.
Make frequent stops to see the sights. Road trips are great metaphors for life, and there's probably no more apt metaphor than this one: you need to stop and enjoy the trip! Like life, a road trip is not all about reaching the destination the fastest, or in the fanciest car, or getting the best gas mileage – remember (as the economist John Maynard Keynes once said), in the long run, we're all dead. It's about stopping – frequently – along the way and enjoying what there is to enjoy on the journey. We pulled off the road to see buildings in the shape of giant guitars, Jefferson's Monticello, forest fires in the hills below us, and anything that looked interesting. In between stops, we enjoyed a great drive on scenic roads with great conversation and music – who could ask for more?
Enjoy great local food and drink. To me, there's no sadder way to eat (or to spend your time) on a road trip than by eating at McDonald's, Burger King, Pizza Hut, or any other chain fast-food restaurant. It's just wrong. A road trip is for exploring local food and drink, for enjoying regional delights,  and getting outside your comfort zone to explore new taste treats. We sampled amazing BBQ in Tennessee, deep-fried Oreos (don't knock it 'til you've tried it, they're awesome) in Maryland, and good 'ol BLT wraps with a regional twist in Virginia, and steered clear of any fast food. We wanted exactly the opposite: slow food we could linger over and enjoy, fodder for good conversation and planning the next grub stop.
Talk to every stranger you meet. What's America's greatest treasure? What makes our country unique, the source of our greatness, and the best hope for our future? Even though they're spectacular, it's not the highways, the mountains, the national parks, or our abundant natural resources: it's our people, you and I and the other 320-odd million folks who live here. I'm no maudlin sentimentalist, and I know full well our history dispossessing Native Americans, enslaving African Americans, denying women the vote, and electing dubious choices to high office. In spite of all of this, Americans are generally optimistic, hard-working, ambitious, and far-sighted, driven by self-determination to achieve and to prosper, and generally open, friendly, and willing to help others. Everywhere we went, every place we stopped, we were treated with genuine kindness, folks asked where we were from, and they shared stories of their lives and families, making us feel welcome and making us wish that we had more time to stay and explore. Presented with everything that we've endured in this latest presidential election season, the tensions that were exposed, and the hatred and small-mindedness that still exists in some corners of the country, I continue to believe that traveling America reveals that most of us are still good people and worth talking to. Perhaps that's naïve, but I think if more of us did it, we might realize we're all not so different after all and that our divisions are created when we trust politicians and media outlets to tell us about each other, rather than finding out for ourselves.
Road trips are not only broadening, they're addictive: I'm already looking forward to my next one (likely on the back of a motorcycle, sometime in April). And even if you can't make it a long one, make a plan now to take a road trip of your own and broaden your own point of view – as Oliver Wendell Holmes said, the mind, once stretched by new ideas, never regains its original dimensions.